5 Tips for Your Cat's Health
Posted on 7 June 2021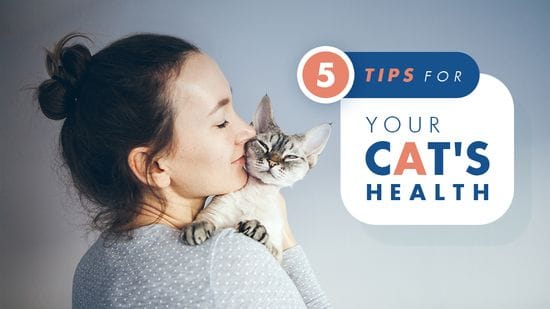 We all want our feline furry friends to be happy and healthy, and naturally, we want to do all we can to ensure that happens. However, cats are well adept at covering up when they're not feeling well, making it possible for cat owners to sometimes overlook important aspects of their care. Here are some tips to help you keep on top of your cats health.
1) Regular Vet Health Checks
Despite the fact cats outnumber dogs as pets, on average cats see their vets less often.
The difficulty of getting a cat to the vet can sometimes influence how often they visit. Conditioning your cat to their carrier is the best way to overcome the difficulties involved in getting them to the vet. Don't hesitate to call us for advice on how to adjust your cat to the carrier.
Cats are generally considered natural masters of disguise; even when they're ill, they can hide illnesses better than their canine friends, especially when the earliest symptoms of illness can be subtle and easily overlooked. A regular clinical health check and examination can help us pick up an illness before your feline friend has let you know! Annual vaccinations also incorporate a complete health check and assessment.
2) Don't Overfeed
Over 50% of cats are overweight or obese, making it one of the most common issues we treat. Being overweight or obese puts cats at a serious risk of a variety of health issues that can shorten their lifespan. Cats generally don't need as much food as some owners imagine, particularly if they're an indoors only cat. Cats can also be very persuasive, and owners can easily succumb to feeding their cat 'just a little bit more.'
Regular weigh-ins also ensure your cat's weight is monitored properly and adjustments can be made to their diets before they reach a dangerous weight.
3) Hairballs - monitor frequency
Though a hairball every now and then is not unusual or a cause for alarm, frequent hairballs, especially when accompanied by bouts of vomiting, coughing or gagging could mean your cat is suffering from an underlying health concern which should be checked.
Cats with these symptoms can be suffering from several issues such as gastrointestinal disease, anxiety, allergies or skin disease.
4) Dental Health
Dental health should not be overlooked - dental disease is a serious problem, with 70% of cats over the age of 3 already showing evidence of dental disease.
Maintaining your cat's oral health from the start can help prevent dental disease, it is a lifelong commitment. To maintain your cat's dental health you need to keep their teeth clean.
You can address this through regular brushing of your cat's teeth. Conditioning your cat from a young age to tolerate brushing and mouth handling will make this an easier task, tooth brushing is considered the 'gold standard' when performed once daily. Check in with us for advice, and to discuss any other options to help keep your cat's mouth healthy and pain free.
5) Flea and Parasite Care
It's a common misconception that cats living indoors don't need flea and parasite control. While it would be nice to not have to worry about your inside cat, unfortunately, pesky fleas and parasites can travel into your home unknowingly. Fleas can breed indoors, even in winter.
Ensuring your cat is receiving parasite prevention all year round will keep them safe and free of intestinal worms and fleas.
Please call us on (03) 9596 4804 to speak to our team for advice or book an appointment, we're here to keep your furry friend as happy and healthy as possible.