Hypothyroidism in Dogs
Posted on 4 September 2022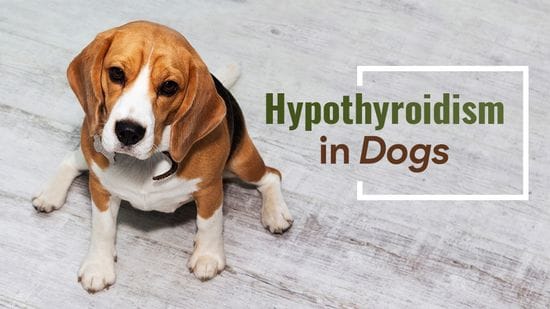 What is hypothyroidism in dogs?
Hypothyroidism affects your dog's thyroid gland which plays an essential role in producing and maintaining hormone levels in its body. Part of the endocrine system, the thyroid gland helps to produce a hormone called thyroxine (T4).
This hormone plays an important part in the regulation of your dog's:
weight

energy levels

metabolism

coat thickness

coat colour
Not to be confused with hyperthyroidism, in which dogs produce too much of this hormone, dogs affected by hypothyroidism will produce t4 at a slower rate.
The slower production can affect your pet's ability to regulate things mentioned above.
Left untreated, symptoms and a dog's condition will worsen, before severe complications arise.
What are the symptoms?
A pet affected by hypothyroidism may show changes in behaviour at home. They might abandon their usual favourite places to find warmer spots in the house, and they may begin to shed more. They may also show disinterest in their favourite activities and seem generally unwell.
Common symptoms of hypothyroidism in dogs include:
weight gain

hair loss, commonly seen on the dog's flanks on both sides or over the tail and head

increased shedding

a dullness in coat colour, often with a fuzzy appearance

lethargy

reduced ability to tolerate the cold due to difficulty in regulating body temperature

constipation
How to diagnose?
Because symptoms are broad, a general check-up can give indications that hypothyroidism may be present, but further tests are usually required to give an accurate diagnosis.
To accurately diagnose hypothyroidism, specific blood tests are required to check thyroid levels.
How to treat and manage?
While there isn't a cure for hypothyroidism, it can be managed with the administration of a thyroid hormone supplement. Dogs with hypothyroidism generally have a good prognosis with long-term medication and management.
Regular blood tests are also required to check thyroid levels and drug dose rates may be changed according to the results.
Following on from initiating thyroid medication, it generally takes approximately 2 weeks for appetite and activity to return and 1-2 months for the skin to resolve. It's always ideal to give at least 3 months of treatment to assess your pet's response to medication. Every dog is different and, therefore they respond differently to medication doses.
Close communication with us is important for ongoing management, and we recommend a visit every 6 months once your pet is stable.
Tips to help manage a pet with hypothyroidism:
Always give your pet's medication at the same time of day
Always watch for early signs of hypothyroidism. These may indicate a need to change the dose
Regular blood tests are required to assess blood levels
Monitor your pet's weight and avoid too many treats
If your dog is showing signs of hypothyroidism, or changes in behaviour and physical condition, contact us or call the team at (03) 9596 4804.
North Road Veterinary Centre is open seven days a week: Mondays to Fridays 8 am to 7:30 pm, Saturdays 8:30 am to 4 pm and on Sundays, 9:30 am to 4 pm.