5 Reasons Your Cat isn't Sleeping at Night and How to Help
Posted on 16 March 2022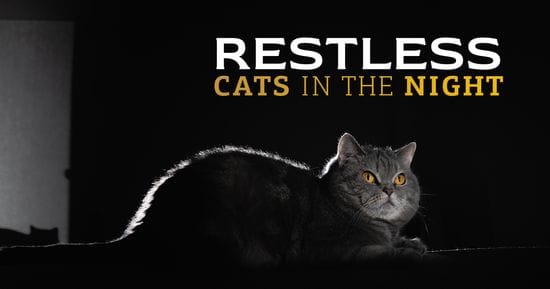 You love to play with your cat, but not at bedtime.
Sleep is an essential part of both our lives and our pets'. But some cat owners don't get to enjoy a good night's rest because their cats won't let them.
My cat isn't sleeping through the night; what should I do?
As annoying as it is to be woken up by our adventurous, nocturnal cats, we should remember that punishment and negative reinforcement will not fix the problem.
Any negative behaviours, especially new or unusual, warrant a trip to the vet. Your cat's restlessness might be brought on by something as simple as a change in the home, but it could also be a more serious, developing illness.
Do not hesitate to contact us for advice on your cat's health and wellbeing.
5 Causes for cats not sleeping at night and ways to help
Cats are genetically nocturnal and natural night-time predators
Cats are genetically nocturnal. That means, unlike humans, they would have most of their excitement through the night.
A routine will help your cat adjust to more human-friendly schedules. Make it easy for your cat to adjust by:
Feeding it at regular intervals during the day. Sometimes feeding before you go to bed will make them less likely to be hungry during the night.

Keeping your schedule relatively consistent

Minimising your own nighttime activities

Avoiding playtime with your feline friend before bed

Ensuring your cat has a comfortable and warm sleeping area
Their social needs might not be fulfilled
Cats are social creatures. Indoor cats in particular from single-pet households will seek social fulfilment from the humans that live there– mum, dad, or the kids.
You should make sure to:
Listen and pay attention to your cat when it communicates with you

Invite your cat to participate in your activities, even sitting on the lounge

Give your cat plenty of love and affection
They're bored or they have excess energy
Cats can be super energetic creatures. If their lifestyle at home isn't active during the day, they will likely continue to be active through the night.
You can't always be home playing with your cat each day, but you can give them ways to spend their energy when you're out, like:
Buying them a new toy for enrichment and changing it regularly

Setting up different types of scratching posts, cat trees

Providing food dispenser toys, intelligence games.
There's a change in your home making them restless
Changes to your cat's home environment can cause anxiousness, stress, or excitement. Emotions like these can be a lot to handle for cats, old or young, and lead to restlessness through the night.
Some changes that could affect your cat include:
A new person in the household

A new pet

New neighbours or animals in the neighbourhood

A new home

New furniture or removal of objects in the home
They could be sick
New and unusual behaviour in pets could also indicate illness.
Your cat might be exhibiting other signs like:
Lethargy through the day

Personality change

Weight change

Disinterest in previously enjoyed activities and foods

Vomiting or diarrhoea

Regurgitation
Do you need to take your cat to the vet if they won't sleep at night?
Any unusual behaviour should be addressed, especially if it's new.
Whether it's a behavioural issue or an illness, the first step to treatment is an accurate diagnosis.
Contact us if you have concerns to book in your feline friend for a check-up.